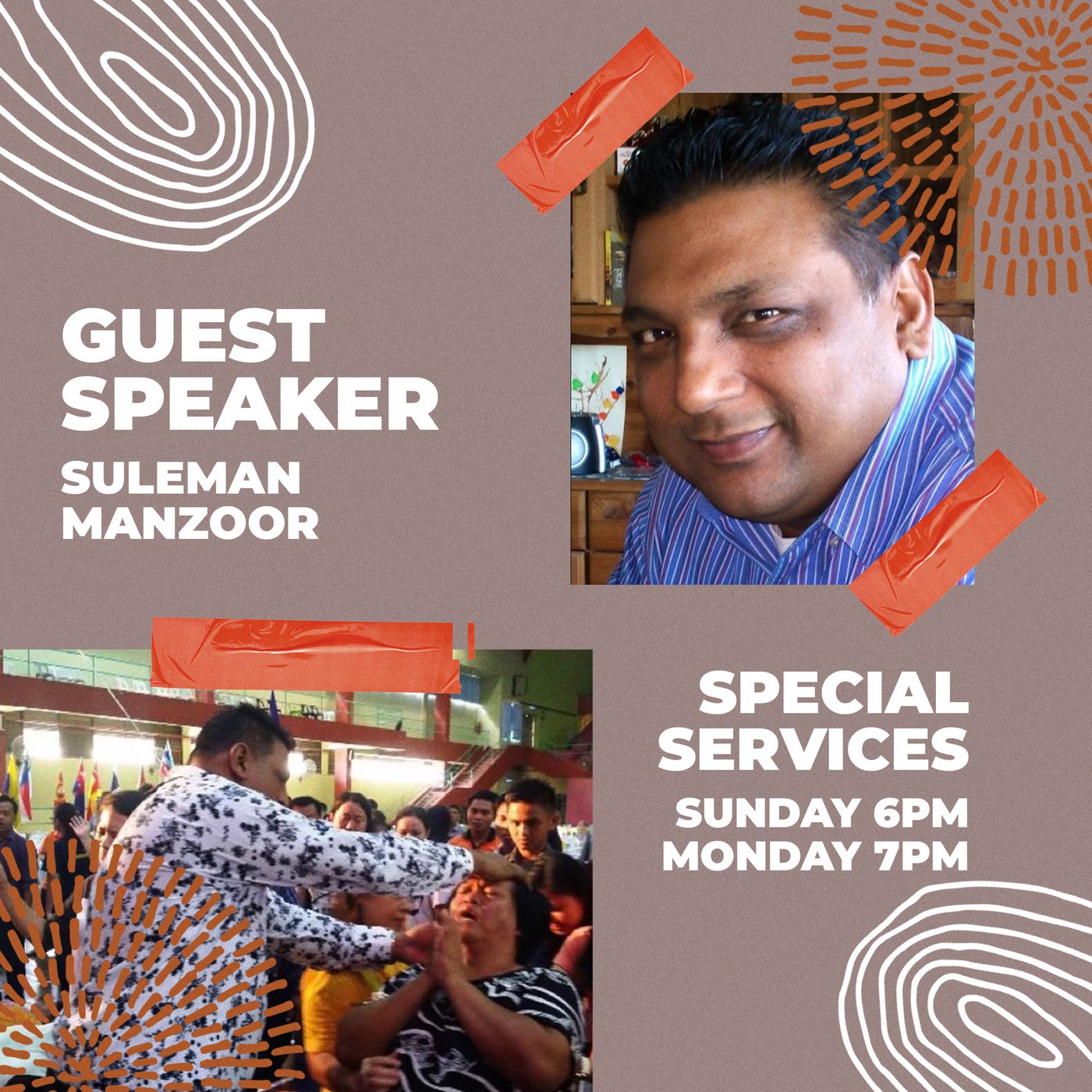 Join us for two special services with Pastor Suleman Manzoor on Sunday night, August 7 @ 6:00 PM and Monday night, August 8 @ 7:00 PM.
About Pastor Suleman Manzoor
Suleman Manzoor originally comes from Pakistan where he was raised in a Christian family, though not Christian himself until age 18. Upon his conversion he worked as an evangelist and prayer leader in Karachi. Then God called him as a missionary to Sweden where he first went through the missions training of Teen Challenge. They in turn sent him out as a missionary to Tuva in Siberia to pioneer the first church in that area. As a result there are now more than 60 churches with domestic leadership.
At Teen Challenge in Sweden Suleman met Tina. They were married in 1995 and then attended Christ For The Nations in Dallas, Texas 1996-97. They started all-night prayer at CFNI, and had sometimes up to 300 students attending. In Dec. 1997, they graduated from the school of pastoral ministries. Upon seeking God in prayer and fasting, they felt led to return to Sweden and to found RAPHA Mission. The ministry has grown rapidly and now has offices in Sweden, Norway, the U.S., and Pakistan. It is aimed to work for revival in Europe as well as missions in Asia, and the Lord is using Suleman as a dynamic speaker with gifts of prophecy and healing around the world. Pastor Suleman is a great man of faith! He is a man who knows his God and does exploits!
RAPHA Mission has conducted large healing crusades as well as held leadership seminars in Pakistan and other nations. They have also worked among Afghans -- both refugees in Pakistan and inside Afghanistan also among the refugees and orphans of Ukraine inside Ukraine and in Poland. RAPHA Mission has assisted hundreds of suffering families with humanitarian aid and led many to the Lord. Currently, they are drilling water wells around the city of Kandahar as well as in Pakistan.
Pastor Suleman is on the Board of Elders for Tom Hess's Jerusalem House of Prayer for All Nations.